Believe it or not, we actually got ready for church this morning with time to spare. What a perfect opportunity to break out my camera...............and you know Anna Kate was thrilled (not).

Isn't she just beautiful?!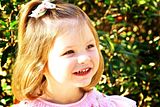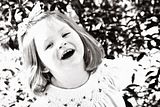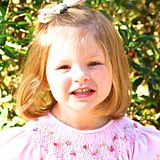 And this is her overall feelings about taking pictures.....*sigh*
After church we went to Wendy's (I swear, if we have eaten there once this weekend, we have been there 10 times. Anna Kate could live on their chicken nuggets.) and then to the grocery store. The children (AK & Belle) are napping while Jeff and I are killing time until time to get ready for the Easter Cantata at church tonight. I have so much I
should
be doing, but I just can't make myself do it. I think I'll be a self proclaimed couch potato for now.