Phew, am I tired!!! Today was moving day in our house. I've said many times that I love my 'stuff' in the house and I love rearranging things. I can't tell you the number of times Anna Kate's room has been rearranged or how many times the spare room has been an office, a bedroom, nursery, playroom, junk room and now a guest bedroom again. But to complete my secret project, several things had to happen first:

1) We needed a bed for the guest bedroom
2) We needed to remove large items from the room that were no longer being utilized
3) All of Anna Kate's toys she had when she was a toddler needed to hit the road
4) And we needed a bed for the guest bedroom...

We have a couple pieces of white furniture (overflow from Anna Kate's nursery/playroom), so the new bed needed to match. Ta-da! We have a double bed with a white headboard already. The only problem was Anna Kate sleeps in it. Hmmmm....a possible solution. So after looking around online at beds for AK (good LORD they are expensive), I decided to ring up a friend and ask if she was ready to sell her glorious Pottery Barn twin beds. She was!!! Jackpot! (Obviously we don't have a need for two twin beds, but they were being sold as a pair, so we are now the proud owners of two glorious Pottery Barn twin beds! **NOTE: For sale - one twin size Pottery Barn bed (frame, foot & headboards only.**)

I started to work on the playroom at 4:00 yesterday afternoon removing the items mentioned above. That was a CHORE. At 7:00 this morning I started working again. Now, at 7:30 PM I am finally finished with both rooms.

VOILA!

The Guest Bedroom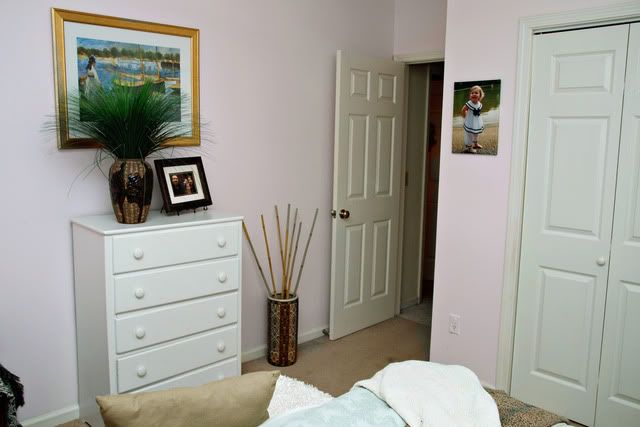 We were going for a beach/lake look. I think it turned out perfect. However, I need to find new bedding. I'm just making due for the time being. Oh, and of course paint. Jeff says the soft pink walls have to go.

Anna Kate's Bedroom


When we were visiting my brother & his family last month, Anna Kate discovered the "coolest thing EVER". Her cousin Lauren had a doorbell on her bedroom door. Great. Now Jeff & I have to ring her doorbell to be permitted in. Sigh.....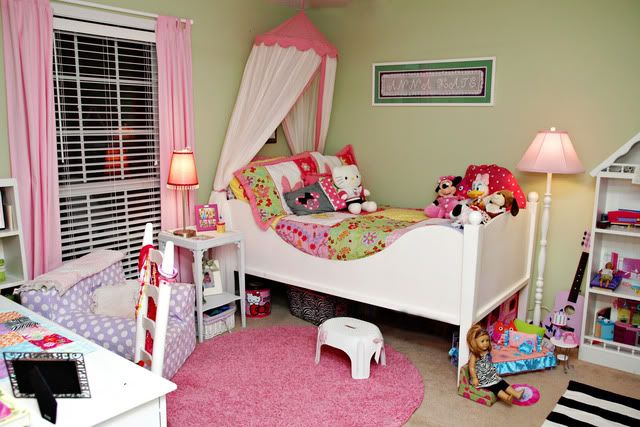 Don't you love the bed!! We plan to purchase a trundle to go underneath the bed.



To the right of the bed...Barbie house (I need to organize that) and her babies.



Looking from the foot of the bed



Reading area :)



Anna Kate's best friend has a pink & purple lava lamp, so she has been begging for one. I aim to please. LOL

So, what do you think? I have a few small things to do, but for the most part my project is complete. Now I just need to clean up the rest of the house...and do a mountain of laundry. Volunteers?
Read more...