Eight days and counting....until I'm headed to Destin for the weekend, with my BFF :) I cannot wait!!! We are totally going to veg out - chill and enjoy each other's company - just the two of us *squeal* I've never been to the beach when it isn't 98+ degrees, so I'm excited to relax in a cool breeze.

Which leads me to the 'Reading' portion of this post. For the past two years, I have used my iTouch as an eReader. It has been wonderful, however, my.eyes.are.shot!!! SO, I've decided to upgrade to a Kindle or the Nook. I have enough reward points to purchase either one, I just need to make up my mind. I tested the Nook at Barnes & Noble yesterday and really liked it. My sister in-law just received her new Kindle and I'm anxious to see how she likes it. I wish I could test the Kindle before making a decision, but I can't. At this moment, I am leaning more towards the Nook.

THE KINDLE $139



Kindle is our #1 bestselling item for two years running. It's also the most-wished-for, most-gifted, and has the most 5-star reviews of any product on Amazon. Now it's even better.


* All-New, High-Contrast E Ink Screen – 50% better contrast
* Read in Bright Sunlight – No glare
* New and Improved Fonts – New crisper, darker fonts
* New Sleek Design – 21% smaller body while keeping the 6" size reading area
* 17% Lighter – Only 8.5 ounces, weighs less than a paperback
* Battery Life of Up to One Month
* Double the Storage – Up to 3,500 Books
* Built-In Wi-Fi – Shop and download books in less than 60 seconds
* 20% Faster Page Turns – Seamless reading
* Enhanced PDF Reader – With dictionary lookup, notes, and highlights
* New WebKit-Based Browser – Browse the web over Wi-Fi (experimental)


THE NOOK $149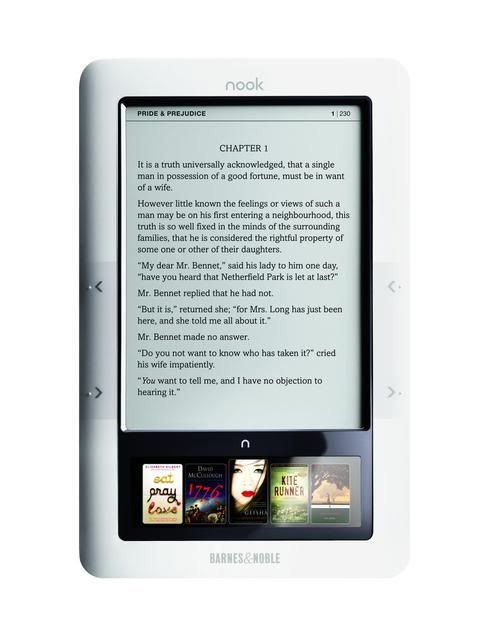 "One of the 10 Best Gadgets." U.S. News & World Report 09/14/10

* The most advanced E ink® Vizplex™ electronic paper display reads like the printed page.
* Read in bright sunlight as clearly as inside your home.
* Make the font size bigger so it's easy on your eyes.
* 3.5 inch color touchscreen LCD.
* One touch control and navigation.
* Swipe to browse your library displayed via full-color book covers.
* You can read for up to ten days without recharging with wireless off.
* 2GB (approximately 1500 eBooks)
* Expandable microSD slot
* Customize your NOOK quickly and easily.
* Load your own photos to create personal screen savers.
* Keep a gallery of cherished pictures on your NOOK.
* Wi-Fi
* Use your NOOK as an MP3 player for audio books or music. NOOK holds 26 hours of audio.

So if any of you have either of these two eReaders, shoot me an email and share your thoughts. I can redeem my points next Monday, and I pray it gets here before my beach trip.
Read more...