Be afraid. Be very, very afraid....



No, your eyes are not playing tricks on you. I did drag my sewing machine out over the weekend and actually completed a few projects - not without some drama though. Ha!

First up was a dress transformation; going from sundress to skirt. Anna Kate had a couple sundresses that were too short, so I made them into skirts.

Step 1: Cut chest off of dress just under the arms.



Step 2: Turn raw edge where you just cut under and pin.



Step 3: Sew all the way around, and voila'! You're done :)

Next was a knee sock project; going from too small tights to adorable knee socks!

Step 1: Cut legs of tights off after measuring what length you want the finished sock to sit on the leg and adding 2" for the hem/elastic.



Step 2: Pin 1/2" elastic around the top of the sock and sew around. Then remove the pins and fold over 1", pin in place and sew around.



Step 3: Remove pins and turn right side out. You can accessorize the sock if you want. I plan to add to pink satin bows to the top front of each sock.



I have a good friend that appliques and I've been wanting to learn how to do it myself. Last night as I was picking Anna Kate's outfit for today I pulled an adorable skirt out of the drawer I purchased from Etsy earlier in the year. However, we didn't have a shirt to go with it. I thought, "hmmmm, maybe now is the time to give appliqueing a go." Me not being all that proficient on a sewing machine - well, I don't have a stock of fabric sitting around, so I had to improvise. I dug through the drawer until I found a pair of flannel shorts from last summer that are too short for AK..they were the EXACT colors in the skirt. Score!! Then I went through the closet and found a long sleeve tee that had a stained pumpkin design on the front. Well, just see the end result for yourself!!!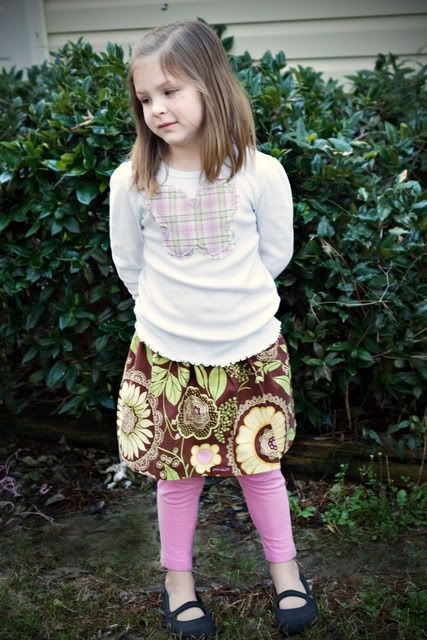 I can't begin to tell you how proud I am of myself! Let me add that I sewed this applique by hand. Yes, I was a little scared to use the machine, but now that I've done it, I know I could do it on the machine. And, my friend has offered to teach me this Friday after school/work. I'm SO excited!!!!

Oh, and I made AK a cushion for her desk chair that coordinates with her new bedding. I think it turned out so cute!



I crocheted four individual panels, then stitched together, added ties and a few embellishments. Isn't it cute?!

Okay, that's all of my projects for right now.

Yesterday was Read Across America day, as well as Dr. Seuss' birthday. Volunteers go to the school and read to the classes. Our sitter and AK's assigned big sister (assigned by AK) Kaitlyn volunteered in AK's class :)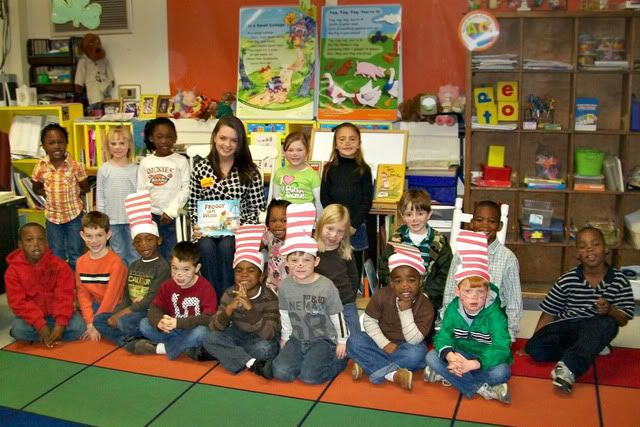 Aren't they cute with their whiskers and Cat In The Hat hats?

And the last update for today...the most important...Anna Kate has her first loose tooth!!! Let me tell you, we have major drama in our house at the moment. She wants it out so bad, but she's terrified of letting Jeff pull it. We're going on 5 days of sheer panic. Bless her heart. Ha!

She is so worried that the Tooth Fairy won't come if her tooth isn't clean when it comes out. She brushes her teeth at least 4 times a day now...just in case.



Each night she & Jeff wiggle, push, pull, tug and AK ends in a heap of tears and exhaustion to no avail. I just know what is about to happen. Jeff is out of town for the rest of the week, so you know as well as I do that this tooth drama is going to come to a head on MY watch. Uggg. I cringe just thinking about it. I can clean up vomit, deal with diarrhea, clean and bandage scrapes and cuts, but pull a tooth.................suffice it to say I may be cleaning up vomit from two people.